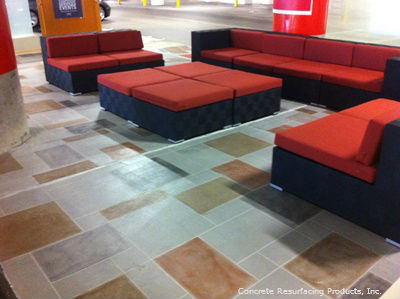 If you're like any other business owner, chances are you're always looking to save a buck whenever and wherever you can. Because you're a business owner, it's also probably safe to say that you're responsible for the upkeep and maintenance your space requires. One area that gets overlooked quite often is the floor.
Like, seriously… It's the floor. Who looks at it, anyway? We just walk on it, right? Not so fast. Consumers have indicated that a dirty or unkempt floor makes a terrible impression and can affect how they view your business, regardless of how good your service or products are. That's why it's important to -- pardon the pun -- put your best foot forward when it comes to the upkeep of your commercial flooring space. One incredible flooring option that allows you to do that is a professionally installed decorative concrete surface.
Saves Money
Because almost every building has a concrete foundation, it might even be possible to "use what you already have" in an effort to save time and money. It's affordable, especially when compared to other floors that are not only more labor intensive to install, but more expensive and difficult to maintain over the life of your business.
Ease of Maintenance
Speaking of maintenance, a sealed decorative concrete floor can withstand spills, resist stains, and resist dirt and dust buildup. In other words, where carpet can trap dirt, dust, dander, and a whole host of other allergens, a decorative concrete floor doesn't retain them, allowing you to simply sweep/vacuum them up and mop as needed for a dazzling shine that's good as new. That makes it hypoallergenic, as well.
Versatile to Any Decor
Because of the variety of different colors of stain (and even textures), a decorative concrete surface can be designed to match with any decor plan. In addition, because different textures can be applied -- both for safety and aesthetics -- decorative concrete can work for a wide assortment of environments, both indoors and out.
Whether you're considering a decorative concrete surface for your business, home, or any other application, make certain that you're working with a professional whom you can trust and can not only provide you a portfolio of their previous projects, but a list of references, as well.
Contact Concrete Resurfacing Productstoday for your FREE no-obligation consultation to see how a decorative concrete surface can give your business an aesthetic upgrade and looking brand new.